Moderator: CULT
[video]http://www.youtube.com/watch?v=o4pvz-i_HV8&feature=youtu.be[/video]


Low scoring affair, but it's close in the end. Written recap to follow.
---
Bench Warmer

Posts: 295
Joined: Fri Jul 23, 2010 3:32 am
TSB W-L-T: 0-0-0
Contact:
Very good game! That before halftime TD run.. blocker decides to cut block after running forever

The call for the originator of the Hail Mary Captain America towards the end! Lots of tough defense from 2 great competitors!
MADISON XI CHAMP (COSTUME CONTEST)
MADISON X RUNNER UP (COSTUME CONTEST)
---
C.U.L.T. Season I Super Bowl Recap
The Browns won the toss and after much consideration, elected to kick.
After a crappy return, the Cowboys offense marched onto the field feeling confident after their performance in the semi-final. The 'Boys 2 headed run game was in full effect as Dallas marched down field with ease setting up a first and 10 on the Cleveland 15 with an eye for the endzone. Coach Chino was primed to lead his team in for a score...but little did he know - Coach Ted had trick or two up his sleeve.
Fact:
Coach SirTed was a waterboy for the Cleveland Browns teams, in the mid 90's and he learned everything there was to know about "scouting" the other team from a certain HC...
After two guessed plays the 'Boys tried to sneak a run in, and the Browns were ready. 4th down, and a chip shot field goal from Dallas followed.
Cowboys 3
Browns 0
A pathetic showing from the Browns offense followed. A lightning quick 3 and out, and the Cowboys got the ball back up 3 still in the first quarter. In the drivers seat. Once again, Dallas showed their offensive superiority as they marched down the field chunking yards with their ground attack. Walt Garrison had clearly eaten his Wheaties between the 1st and 2nd quarters, because now he was ready to rock. Unfortunately for the Cowboys and Chino, once again SirTed went to his Belichickian playbook in the redzone and stifled another Dallas scoring drive. Fieldgoal Cowboys.
Cowboys 6
Browns 0
The Browns were determined to get a FG before halftime, and marched methodically down the field, even testing Dallas deep once with Warfield. No luck.
With about 23 seconds left in the half Cleveland handed off to Leroy Kelly to try and set up a long FG.Coach SirTed gave him explicit instructions to hang near the sideline and play for the field goal. Kelly ignored Ted, per usual. Kelly met Cowboy Mel Renfro after taking the corner. It looked something like this:
Paul Warfield, who claimed he was being bullied all game by the Cowboys - was eager to get involved in the play and laid down a MONSTER chop block 30 yards down field.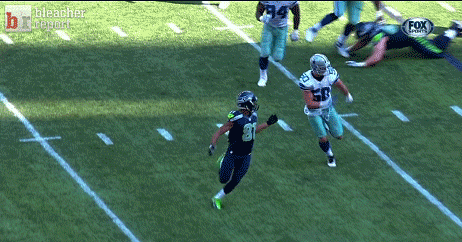 Touchdown Browns!
Halftime!
Browns 7
Cowboys 6
The 2nd half starts with more offensive inepitude from the Browns who were determind to get Warfield in the mix. It didn't happen, and the Browns didn't move the ball. 3 and out, and Dallas was back in the drivers seat.
The Cowboys began their march downfield once again. Only this trip was a lot shorter and a lot sweeter. Coach SirTed was "interviewing" Browns cheerleader candidates, and left the playing decisions up to assistant coach Ronald Jenkees.
(Resume')
http://www.youtube.com/watch?v=0O2aH4XLbto
http://www.youtube.com/watch?v=BbrCMe2l7AA
Cowboys 13
Browns 7
The Browns get the ball back with only a few seconds left in the 3rd quarter. The offense had done nothing all day and was desperate to get anything going. Unfortunately, desperation doesn't directly lead to production and once again Cleveland struggled to move the ball. It was 4th and 10 from midfield. 3:00 to go. Decision time. Would SirTed punt back to Dallas, considering their inability to stop them all game, or go for it, and potentially lose the game on the next play?
Ted decided to go for it, calling a pass play that had worked for them exactly zero times throughout the game.
THE PLAY OF THE GAME!
At the snap things are looking good. Warfield clears the corner and the safety on his side. There is RB Bo Scott in the flat. QB Nelson has already made up his mind that's where he's going with the ball. Oh No! Here comes CB Cornell Green to spoil the potential 1st down party. Coach SirTed is deflating by the second.
But wait! Cornell Green went to the Prince Field school of Auto Diving!
Bo Scott almost can't believe it, as he temporarily runs in the wrong direction. From there, the Browns run a couple of plays before going back to the Leroy Kelly well one last time. Touchdown Browns.
Cleveland 14
Dallas 13
Dallas receives the ball, moves it a little, setting up two desperation attempts at the Hail Mary. Even putting Staubach in for a little Veteran's Day magic. To no avail. Game Over.
Final Score:
Cleveland 14
Dallas 13
Final Notes: In all seriousness. What a fun, nerve wracking and heartbreaking game. What a blast it was to get to play a Championship against my favorite Tecmoer out there, Chino_Pino. There's nobody I'd rather play, but unfortunately nobody I hate to see lose more. I got lucky on more than one occasion, and won a few tap battles to turn the tide my way. GG Will. You're a class act, and a fierce competitor. I've still got my fingers crossed that you'll find a way to get into just one league. And I mean, really one league. Not the "one league" we all tell our wives we're in.

Lastly, Special Thanks for Chris for putting this whole thing on. I'm looking forward to battling in CULT in future years, however it looks.
---
Bench Warmer

Posts: 295
Joined: Fri Jul 23, 2010 3:32 am
TSB W-L-T: 0-0-0
Contact:
A very good and entertaining recap. Thanks for the good laughs Ted! Love the Jenkees video for sure!
MADISON XI CHAMP (COSTUME CONTEST)
MADISON X RUNNER UP (COSTUME CONTEST)
---
Champion

Posts: 8519
Joined: Fri Feb 23, 2007 12:50 am
TSB W-L-T: 16 Titles
Has thanked: 2 times
Been thanked: 1 time
That may be one of the best recaps ever put together. I'd have to look for one of mines to confirm.

NWO Season 1 Champion
TCS Season 11 National Champion
PTT Tourney Champion
TBL Season 1 Champion
TCS Season 16 Bowl Champion
NCAA Season 1 National Champion
TPC Tourney Champion
B&G Tourney Champion
NCAA Season 2 National Champion
WTFR Season 8 Champion (1977)
WTFR Season 10 Champion (1979)
NTF Season 3 Champion (1972)
NTF Season 4 Champion (1973)
NTF Season 6 Champion (1975)
TCS 2.0 Season 2 Bowl Champion
The OG Original WTF Season 28 Champion (2017)
***Tecmobowler 2007-2014***
---
---
Return to "Champions Ultimate Legion of Tecmo ARCHIVED"
Who is online
Users browsing this forum: No registered users and 1 guest